First impressions are crucial. Guests, investors, and future employees form their opinions about your business and brand before even entering your establishment based on what they see on the exterior. As a result, exterior maintenance is essential to maintaining a brand image.
When owners and managers think of exterior maintenance, they might think of paint, pressure washing, signage, lawn care, and general building maintenance. However, a relatively overlooked part of this process can prove to be costly if left unmanaged: vegetation management.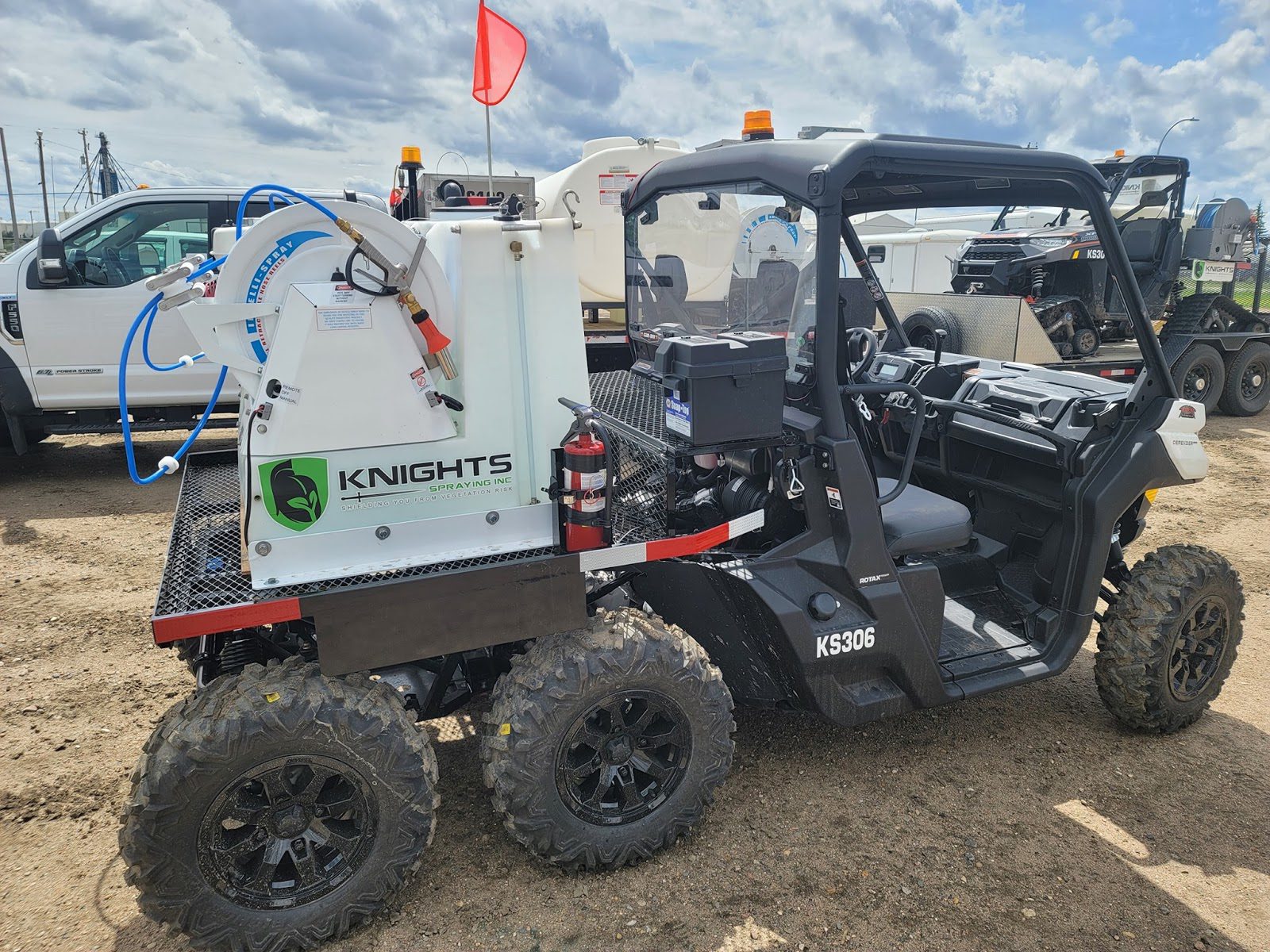 What is Vegetation Management?
Vegetation management is the general term used to describe the targeted control and elimination of unwanted vegetation (ie. weeds, trees, brush).
Rodents, birds, and insect biters like wasps, bees, and mosquitoes may find shelter in unwanted vegetation. Pests can ruin your building and equipment, harm guests and employees, and create a much larger and more costly problem. Unwanted vegetation can also cause structural damage if left unchecked for too long. Having a proper treatment plan can significantly reduce these risks and extra maintenance requirements.
Overgrown Vegetation Risks
In addition, vegetation near establishments can prove to be a fire threat as it has a tendency to grow dry and easily ignited. Throughout the summer season, provinces such as Alberta experience forest fires—many that, if properly managed, may never have started.
Protect your kingdom with Knights Spraying this season. Spring and early summer are ideal times to develop a vegetation management plan, before temperatures rise, pests become more active, weeds grow faster, and brush fire risks increase.
How Knights Spraying Manages Vegetation
Pipeline R.O.W. Spraying
Unwanted vegetation is eliminated with herbicides and weed control. Herbicides have been shown to substantially reduce the cost and ecological impact of maintaining utility rights-of-way (ROWs), according to T&D World Magazine.
Spraying pipelines regularly to keep them in top condition can provide benefits to individual projects and the entire local community. It may also be necessary for projects requiring regular inspections. To ensure you have a clear pipeline and pass any pending inspections, summon the calvary, and give Knights Spraying a call today.
Utility Corridor Spraying
In a public area like utility lines, fences, substations, and roadside intersections, vegetation management is a public duty. Unmanaged wild vegetation may become overgrown over time if it is not taken care of. Overgrowth can cause all kinds of problems. Aggressive plants like creeping bellflower or yellow clematis can spread rapidly and even completely cover structures in some cases.
Oil & Gas Vegetation Control
We provide fast and efficient vegetation control using new equipment and dedicated staff without negatively impacting the surrounding environment. Our crew utilizes UTVs and trucks outfitted with various tank and sprayer options to accommodate multiple chemicals.
Railway & Roadside Spraying
Throughout western Canada, Knights Spraying provides vegetation management services to railroads and roadsides. Using our state-of-the-art technology and unique application methodology, we can save you valuable track time by rotating treatments on any service unit as long as the weather permits.
Vegetation management is important for keeping control over plants that grow wild alongside places like roadsides, sidewalks, and planting beds. Knights Spraying is here to help you defeat pesky intruders and have a peaceful reign over your kingdom. Contact us today to discuss a vegetation management solution that works for your business.