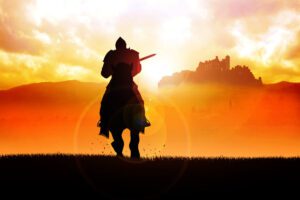 Two of the most enduring clichés of the Middle Ages are the knight in shining armour and the damsel in distress. The knight rescues his lady from peril with strength, devotion, and undying love, winning her heart and gaining his reputation as a great knight along the way—that's the stuff of fantasy.
Sir Galahad, probably the best example of a knight achieving legendary status, is one such knight of fantasy. Throughout his life, he was known as the "Perfect Knight"—courageous, gentle, chivalrous, and courteous. Many knights would have had to undertake crusades in order to achieve the status of "Perfect Knight".
For the use of this article, a crusade is a long and determined effort to achieve something that you strongly believe in. Knights Spraying's crusade is one of safety.
Knights Spraying's Management Commitment to Safety
Knights Spraying seeks to ensure its employees have a safe and enjoyable work environment—and that includes making sure they are safe. In addition to superior technology and equipment that is regularly checked for safety and quality purposes, we have a mentorship and leadership program called Knights and Squires.
Knights and Squires
Through the Knights and Squires leadership program, KSI aims to teach the values and honour of knighthood. To develop our squires' leadership skills, our knights' train, teach, coach, and mentor our squires in a safe environment.
Squires learn HSE processes and systems from experienced staff, allowing them to complete the summer with the necessary communication skills that will make them desirable talent in the workforce. Moreover, every summer we ensure our summer students are adequately trained and prepared for the upcoming season by ensuring they have all their safety courses finished, and have completed a Common Safety Orientation (CSO).
Safety Equipment
Our management commitment to safety includes maintaining equipment in the best possible condition for our employees. Because of this, we buy new tools yearly to ensure our jobs are done as efficiently and safely as possible.
UTV Sprayer QR400
During summer 2021, Knights Spraying started using the UTV Sprayer QR400. Its Easy-Walk Spool System makes handling hoses a breeze when walking long lengths out in the field, allowing our employees to work without worrying about malfunctioning hose reels. It allows us to walk around the fields—preventing vegetation from erupting—without catching or kinking on any trees, rocks, or posts.
A Top-Notch Utility Trailer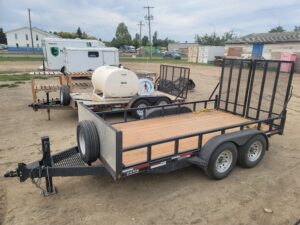 Our newest safety feature, however, is our trailer! The trailer was custom-made with the highest quality materials and workmanship from Pioneer Offroad Rentals in Bonnyville, AB. We are passionate about supporting local businesses in Albertan communities. This trailer is special because it has fall protection, stop bars in the front, rock guards on the fenders and tongue, and a grating across the hitch frame for walking.
The Knights Spraying Difference
KSI does not just keep our employees safe to adhere to OHS standards. We genuinely want to take care of our employees, so they feel safe heading into any battle—or job.
If you would like to see the Knights Spraying order of knights at work, you can contact us on our website, by calling 1.780.581.8775 (toll-free: 1.88.545.7707) or booking a spraying for your business by clicking here.